Palibex, express pallet delivery services
We are the only network in the Spanish market that guarantees deliveries before ten o'clock in the morning through our 10:00 program
Palibex is the fastest growing pallet transport company in Spain. In just over seven years it has become one of the 1,000 fastest growing companies in Europe according to The Financial Times. It started in 2012 with just 12 people and today has nearly 700 serving more than 15,000 customers, offering the fastest service in the country for the transport of palletized goods.
It has 70 branches throughout Spain, with a fleet of over 550 trucks. It is currently extending its geographical coverage, opening new regional hubs and creating logistics corridors to adapt to the needs of its franchisees and customers.
We are the only network in the Spanish market guaranteeing delivery before 10 AM, with 10:00. There are two additional express services –a.m. and HOY–, as well as a priority treatment option –VIP– and 24h and 48h deliverie
We are the only pallet transport network that uses a unique rear loading system, providing greater safety and a lower damaged goods ratio.
We operate using modern facilities. Trucks do not enter the warehouse and we only use electric equipment to avoid harmful emissions and ensure greater cleanliness throughout the process.
Palibex is also the most decentralized and collaborative and the most reliable because it ensures total online traceability of goods and their delivery on time and in the best conditions.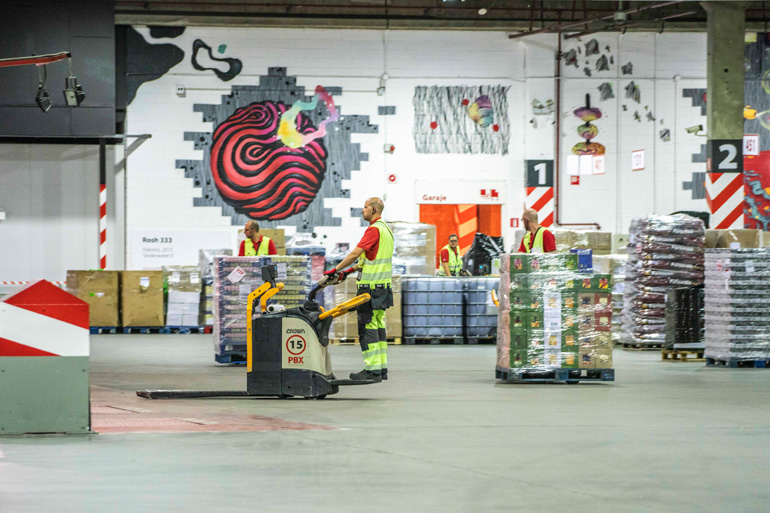 Our employees are the centre of the company, more valued than any client or shareholder. For them we have established our "Palibex Sonríe" strategic plan, which includes measures for a happier and healthier company.
Finally, the pallet transport network, Palibex stands out for its commitment to art. It promotes patronage projects to make it more accessible, such as Truck Art Project, an innovative initiative to showcase avant-garde art on board trucks that travel on Spanish roads while they are making their commercial routes, or PBX Creativa, an original art collection that fills its facilities in the Villaverde industrial park in Madrid with color.