Palibex, fast pallet delivery services
Know more about this freight transport company
Palibex is a spanish company specialised in fast pallet delivery services In just over seven years it has become one of the 1,000 fastest growing companies in Europe according to The Financial Times. In 2012, when it was founded, it only had 12 employees and today it has almost 700 and more than 15,000 customers. It offers the country's fastest service for the transport of palletized goods.
It has 70 delegations throughout Spain and a fleet of more than 550 trucks. It is currently extending its geographical coverage, opening new regional hubs and creating logistics corridors to adapt to the needs of its franchisees and customers.
The Network has services as urgent as 10:00 (before ten o'clock in the morning) or a.m. (before noon), making it the fastest network on the market. It also offers the express and economic services, in 24 h or 48 h and even same-day deliveries.
Palibex's unique operating model, based on rear loading and unloading, results in a lower breakage rate. Its incident rate is much lower than the average of the sector due to strict operating regulations.
Palibex operates in smoke-free facilities because the trucks don't have to enter them and the machinery used, for loading and unloading, is electrical. This operation is particularly attractive for the transport of consumer goods industry and for the most demanding customers.
The fast pallet delivery services Network is also the most decentralised, collaborative and reliable because it ensures full online traceability of goods and their delivery on time and in the best conditions.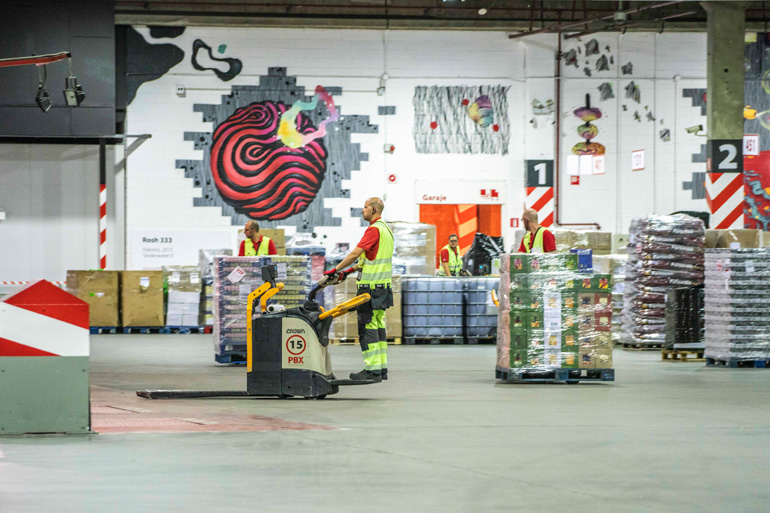 Palibex aims to modernise the sector and make it more attractive through innovation and people. For this reason, Palibex puts its eyes on its employees and considers them to be the centre of the company above customers or shareholders. This commitment to its workers has been embodied in the Palibex Sonríe plan, which includes social benefits and measures to achieve a happy and healthy company.
Palibex Sonríe also includes equal oportunities for promotion, family reconciliation measures, a healthy dining room, health insurance and appointments with the nutritionist or physiotherapist within the company.
This fast pallet delivery services network also stands out for its commitment to art. It promotes patronage projects to make it more accessible, one of them is Truck Art Project, an innovative initiative to show avant-garde art on trucks that circulate the Spanish roads while going on their commercial routes. Another one is PBX Creativa, an original art collection that fills its facilities in Madrid with colour.